To see the story, go here.
Chapter 3, also known as "Tunnel of the National Institute of Notalium", is the fourth chapter of the main storyline.
The story follows Rossa and Nero when Fisica and Ritmo go in the tunnel at the end of Chapter 2. It was released in 1.5 and has 7 songs with a Boss Song, You are the Miserable.
Characters
Edit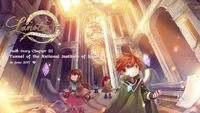 Hidden Poem
Edit
When completing 3 challenges in any song in this chapter, it yields a passage of text that seems to be part of a single poem with parts from each song area. Whether or not the order of the songs is the order of the text in the poem, that is unknown.
Characters
Edit
Song List
Edit